Awards
The Dave Rowley Award for International Initiatives
Dave Rowley served as ODC Chair and Co-Chair for many years before he passed away in 2015. Dave had many professional values, and one of them was international collaboration. He was keen to encourage new research, clinical and learning initiatives in under-resourced or developing countries, and valued collaborative working across countries and disciplines.
Winner: Katarzyna Wesierska, University of Silesia, Poland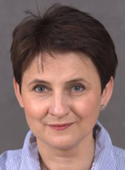 Katarzyna Węsierska is a lecturer at the University of Silesia in Katowice, Poland. She is the founder of the Logopedic Centre in Katowice, Poland. Katarzyna was the first Polish ECSF graduate (European Clinical Specialization in Fluency Disorders). She coordinates a self-help group for people who stutter and/or clutter. She cooperates with international organizations(such as the Stuttering Foundation of America) and researchers from different countries as part of her ongoing effort to disseminate knowledge and change social attitudes about fluency disorders.


The Travers Reid Award
Winner: Evan Usler, Purdue University, United States