Special Issue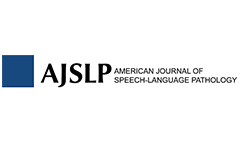 All presenters at ODC 2017 are invited to submit their work for possible publication in the American Journal of Speech-Language Pathology (AJSLP). Submitted works will be peer reviewed and must meet the standards for publication in AJSLP (please see information for authors and journal scope below). Manuscripts should be submitted via AJSLP's online submission portal. Authors should notify Sharon Millard of their intention to submit by September 30, 2017 and should indicate in their cover letter to the editor that they are submitting a manuscript for possible inclusion in the "Select papers from the Oxford Dysfluency Conference" Special Issue. Dr. Sharon Millard will serve as guest editor for the special issue. The ODC research review committee will serve as reviewers for these submissions.
AJSLP requests that manuscripts intended for special issues be submitted together. To facilitate this process, please submit your paper between November 15-17, 2017. Once submitted, please send Dr. Millard an email indicating the authors and title of your submission (sharonmillard@nhs.net).
Accepted manuscripts will appear as part of a special issue in AJSLP in 2018. Please see important dates below.
November 15-17, 2017: Submit manuscript
May 15, 2018: Editorial decision
AJSLP Information for Authors can be found here: academy.pubs.asha.org
AJSLP Mission and Scope: academy.pubs.asha.org/asha-journals-author-resource-center/selecting-a-journa
Online submission: mc.manuscriptcentral.com/ajslp
« Go Back