Supporting Publications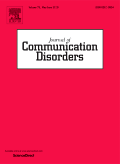 Journal of Communication Disorders
Editor: Gayle DeDe
The Journal of Communication Disorders publishes original articles on topics related to disorders of speech, language and hearing. Authors are encouraged to submit reports of experimental or descriptive investigations, theoretical or tutorial papers, or brief communications to the editor. Special issues are published periodically on timely and clinically relevant topics.
For more information, please visit: www.journals.elsevier.com/journal-of-communication-disorders
Special Issue
All presenters at the 12th Oxford Dysfluency Conference will be eligible to submit their work for possible publication in the Journal of Communication Disorders (JCD). Submitted works will be peer reviewed and must meet the standards for publication in JCD. Accepted manuscripts will appear as part of a special issue in JCD in 2021.
Guest Editors:
Luc De Nil, University of Toronto, Canada
Mark Onslow, The University of Sydney, Australia
Kathleen Scaler Scott, University of Louisiana at Lafayette, USA
Further information will be available in 2020.
---