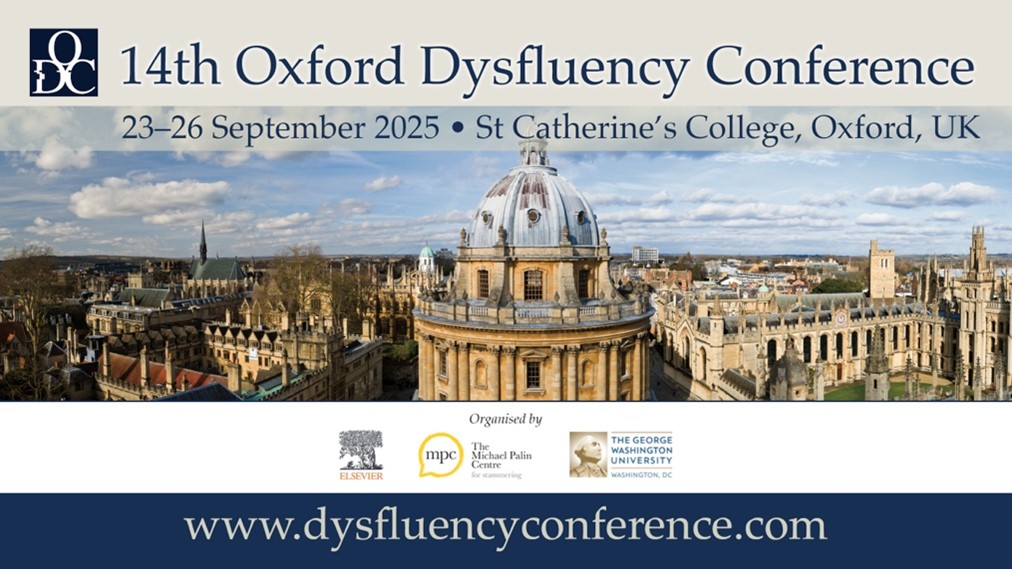 SAVE THE DATE!
We are delighted to announce that the 14th Oxford Dysfluency Conference will take place from 23-26 September 2025 at St Catherine's College, Oxford, UK.
Further details will be added here soon and, in the meantime, please add the dates to your diary!
We look forward to welcoming you to Oxford in 2025!
13th Oxford Dysfluency Conference


Back to the Future
19-22 September 2023 | St Catherine's College, Oxford, UK
The 13th Oxford Dysfluency Conference is now SOLD OUT! If you would like to be placed on the waiting list for cancellations, please contact Kay Russell at k.russell@elsevier.com (please do not email credit card information under any circumstances) and state your preference for full access or 1-day access (giving the preferred day).
The Oxford Dysfluency Conference, under the theme 'Back to the Future', is to be held in-person at St Catherine's College Oxford from 19-22 September, 2023. The conference has a reputation as one of the leading international scientific conferences in the field of dysfluency.
We are excited to be getting back together in person. To meet with colleagues old and new, build on what has gone before, and bring new energy and ideas to our research and clinical practice. The future is now, come and join us!
The conference brings together researchers and clinicians, providing a showcase and forum for discussion and collegial debate about the most current and innovative research and clinical practices. Throughout the history of the Oxford Dysfluency Conference, the primary aim has been to bridge the gap between research and clinical practice. The conference seeks to promote research that informs management, with interventions that are supported by sound theory and which inform future research.
Conference topics:
Conceptualizing stuttering
Genetics and Neurophysiology
More than speech
Cluttering and acquired stuttering
Advancing clinical practice through research
Before travelling to the conference, please familiarise yourself with the Covid-19 requirements for UK, which Elsevier will be following. The current country guidelines can be found here. We still request that anyone who has tested positive for Covid-19, or is under any self-quarantine orders does not attend the conference.
Conference Committee
---
Conference Chairs
The Committee Chair for the Dave Rowley Award for International Collaborations
---
Suzana Jelčić-Jakšić , Croatia